Electronic Locks AL5H Dual Technology in one smart lock.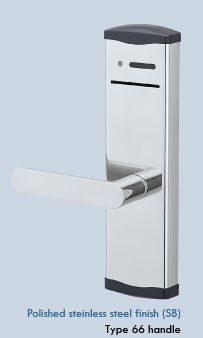 Designed to read magnetic cards, memory smart cards and processor cards, the AL5H combines high quality engineering with state of the art electronics, offering you the benefits of:
Time saving convenience for you and your guests.
* Complete access control.
* Trouble free operation.
* 600-event audit trail.
* Reliable and Secure mechanics.
* Audible and Visual card recognition.
* Infra-red lock programming.
* Economic & efficient battery power consumption.
* Patented Auto-Deadbolt version offering increased security.

AL5H Weather Proof Lock
This special lock is for installations in outdoor or other harsh environments such as in coastal areas.
The outside escutcheon is coated with an extra anti-corrosion clear lacquers and the controller part (most essential and ordinarily very vulnerable electrical part of the lock unit) is to be entirely thick-resin coated.
The battery box is located in the inside escutcheon same as the standard lock unit which ensures stable operations even when installed on the door exposed to a very cold outside temperature.
AL5H Auto Dead Bolt
Miwa's AL5H Auto Deadbolt locks offer greater security to the guest and hotel even when the room is not occupied. Miwa's unique patented Automatic Dead Bolt technology means that every time the door is closed the deadbolt is automatically extended giving that added protection.
Having the deadbolt engaged as well as the latch gives the door added protection against force openings. There is a privacy switch on the inside of the door that once engaged tells the staff that the room is occupied.
Another benefit from this product is that the deadbolt cannot be extended when the door is in the open position thus preventing it from being used as a door stop. This in turn protects the lock and frame from the usual damage sustained by the door slamming onto the deadbolt.
Electronic Locks AW2H Guest security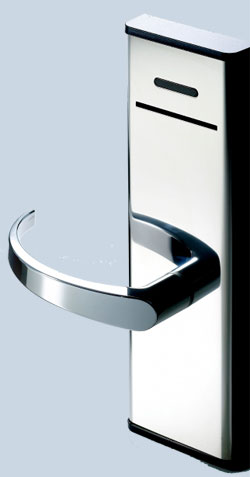 The AW2H lock case has a three piece ¾ inch (19mm) latch, a hardened one inch(25.4mm) steel deadbolt and an anti-pick latch that prevents the lock case from being tampered with whilst the door is closed
Power supply & low battery warning
Though operating on only 2 AA alkaline batteries, the AW2H lock will function for around 1 year before the low battery warning is indicated.
There is a visual warning when the batteries are running low, this is given to the staff cards, ensuring your guests are not inconvenienced
In the unlikely event of the batteries running out completely, there is an external power supply connection so that power can be directly supplied to the lock.
Resin coated card reader
The one piece card reader has been designed for easy maintenance, this includes a dust shutter and the main board being coated with a layer of resin, ensuring a reliable operation for both your guests and staff.
Infrared programming, audit & memory
Using the standard infrared port, communication to the AW2H lock is fast and easy, both for programming and retrieving the audit data.
The audit trail provides a record of the last 200 valid card entries as well as last 100 error log, so that you can track activity associated with the lock.
The non-volatile memory retains the data when batteries are removed, keeping your lock software and audit data safe

FOR FACTORY FINISHED FRAMES & DOORS - CLICK IMAGE

FOR MORE INFORMATION CALL OR E`MAIL - mailto:nhsibob@shaw.ca

Bob Duncan, V.P. Sales & Marketing
PH: (604) 277-9294 FAX: (604) 277-9297
Toll Free PH: 877-277-9294