Amana
- An Industry-
Leading Brand
STANDARD FEATURES
Energy Efficiencies: Our units high efficiencies can qualify you for many of the rebates offered by electrical power companies. EERs up to 12.8 and COPs up to 3.5 keep energy consumption to a minimum.
Quiet Operation: Our PTAC has been redesigned to be the quietest PTAC we have ever built-with an STCof 28. The units state-of-the-art design and construction provide a quiet environment, allowing guests to enjoy peaceful, sleep-filled nights.
Operating sound levels are further dampened when the unit is in LOW LEVEL mode of operation.
Increased Dehumidification Capacity -Maintain lower humidity levels in rooms while cooling them without the need for expensive add-ons. As a result, guests feel more comfortable at higher temperatures, thus reducing cooling costs, and increasing the life of your furniture, wall coverings, and fixtures is extended, which means fewer replacement costs.
7 3/8 inch Unit Front Depth - Enhance valuable room space with our slim unit front, which has a sleek 7 3/8 inch depth, one of the shallowest silhouettes in the industry today. In addition, to inhibit guest-tampering, the front can be secured to the chassis with a hidden screw.

Removable Condenser Shroud - Allows easy access to maintain the condenser coil and extend life of the unit.

Easy Pull-Out Filter - Our full-length filter is washable and easy to maintain. Optional charcoal fi lters are available.

Filter Dryer for Sealed System Refrigerant: Standard in all units to protect the compressor and lengthen the life of the unit by removing moisture and preventing acid formation.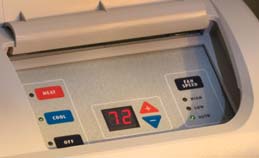 Digi Smart
Control Panel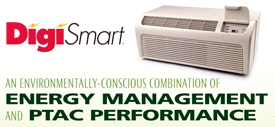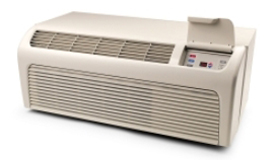 The new and improved
     
R410A PTAC Unit!
Product Features Include: Heat pump and cooling only models with nominal capacities of:
7,000 BTU/h
9,000 BTU/h
12,000 BTU/h
15,000 BTU/h
EER as high as 12.1

COP as high as 3.4

5-year warranty

Available with electric heat

Available with hydronic heat

On-board energy management software: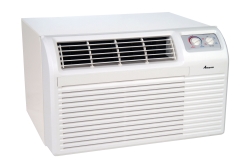 PBE09 Air Conditioner with Electric Heat
9,680 BTU/h capacity

208/230V product with EER of 10.0

3.5Kw-rated electric heater

Fits standard 26" wall sleeve

Mechanical control

Polypropylene air filter

Solid side; no louvers

Cool Only Model

Heat Pump Model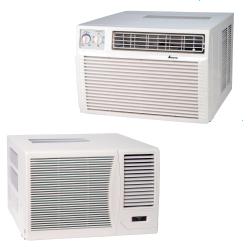 We offer six Amana brand
208/230V Window Room
Air Conditioners with
Electric Heat for Commercial Applications
Product Features inlcude:
Cool with electric heat models
9,000 BTU/h nominal capacity

12,000 BTU/h nominal capacity

18,000 BTU/h nominal capacity