FOR IMMEDIATE
RELEASE
GENERAL COACH CANADA

OFFERS LEASE PROGRAM
General Coach Canada is proud and excited to announce today; March 26, 2010 that they have joined hands with Nationwide Leasing a division of Nationwide Hotel Supply Inc. Richmond. B. C. The two companies signed an exclusive leasing and financing program for rental cabins being produced by General Coach Canada in Hensall Ontario.
"The incredible response to our line of rental cabins since their launch in the summer of 2008 has been unprecedented" says Roger Faulkner President of General Coach Canada.
Faulkner states, "When the RV industry started to slow down in 2007, 2008 the writing was on the wall as to the future of General Coach Canada, we had to look outside the park for other products that we could build". The other product that General Coach Canada chose to pursue is simply an extension of the top of the line Park Model they were already manufacturing.
Nationwide Leasing has established a proven track record when it comes to leasing equipment to the hotel and lodging industry over the past 20 years and were anxious to entertain a lease to purchase plan for all General Coach Canada's clients.
The lease to purchase plan being launched will allow all campgrounds to now enter the extremely lucrative rental market.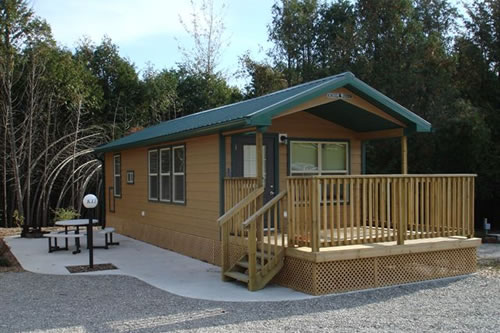 We knew we had a winner when we were chosen as a "Preferred Vendor" for KOA (Kampgrounds of America) to build Lodges for their Canadian franchisees.

The major challenge for most campgrounds was to find the extra cash which would enable them to purchase the cabins, due mainly to the lack of knowledge on the part of most banking institutions in Canada.

General Coach Canada prides itself on producing the very best park model in the industry today when one talks about quality, fit and finish, service and innovation. Their new line of rental cabins is just one more example.

For more information please contact: General Coach Canada 519-262-2600 or visit their web-site at www.generalcoachcanada.com or Nationwide Leasing 604-277-9294 www.hotelsupplycanada.com

OR E`MAIL - mailto:nhsibob@shaw.ca

Bob Duncan, V.P. MARKETING & SALES
PH: (604) 277-9294 FAX: (604) 277-9297
Toll Free PH: 877-277-9294